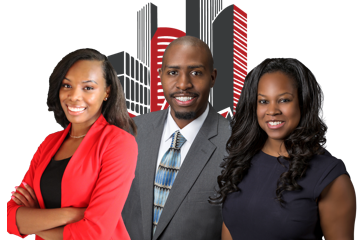 We are REALTORS® with Keller Williams Realty. We are also Real Estate Investors, Published Authors, Career Coaches, and Real Estate Listing & Buyer Specialists. We specialize in both Residential and Commercial real estate. We have extensive personal experience in real estate from loan origination, purchases, sales, and property management. We have invested in real estate in multiple cities across the United States. Now, we leverage our real estate experiences to help our clients build wealth through real estate.
Throughout our journey, we have come to realize that it is important that we help others and give back to the communities we serve. Therefore, you will see us mentoring kids, facilitating financial workshops, and even training other real estate agents.
When we are not working hard for others, we make sure we play hard. We love spending time with our family. We enjoy reading, working out, and you may see us around town at concerts, sporting events, or comedy shows. So, please stop us and say "Hi"!
Follow US on Facebook: CLICK HERE
THE LATIMORE GROUP MISSION
For many people, owning a home is the fulfillment of the American dream. Unfortunately, many Americans find themselves plagued with an inability to buy a home or sell their home. Therefore, the American Dream is just that…A Dream. The Latimore Group has a solution.
Our dedication to being solutions oriented has allowed us to expand our reach in the real estate industry. Our mission is to make an impact on communities. Therefore, we have created a "Concierge Service" for buyers, sellers, and real estate investors.
So, what is so special about our approach?
The answers to that question played a key role in the development of our "Concierge Service".
Our Simple Real Estate Solution Can Revolutionize The World!
Special Message from Donald Latimore
Greetings! I'm Donald Latimore. I have the pleasure of calling one of my business partners my wife (in blue) and the other my daughter (in red).
I am the President of Business Operations on The Latimore Group. I have worked in every aspect of real estate and integrity is at the core of what I believe in. I am a University of Phoenix graduate with a Bachelors of Science degree in Business Marketing and a Masters Degree in Accounting. I have owned successful marketing companies and have managed large teams of 100+ people in the telecommunications industry.
Follow me on Facebook: CLICK HERE
Special Message from LaToya Latimore
Hello! I'm LaToya Latimore
.
Yes, that guy above is my husband and the one to my right is my daughter! But, enough about them…
I am the President of Investor Relations on The Latimore Group. I epitomize integrity, energy, hard work, and creative service in every detail of your real estate transaction. I am a University of Phoenix graduate with a Bachelors of Science degree in Human Services. I also hold two Masters Degrees- one in Business Administration and the other in Accounting. I have years of project management experience in the banking industry and I was known as a multi-million dollar producer in the lending industry.
Special Message from LeAnna Latimore
Hi! I'm LeAnna Latimore
.
You have probably guessed by now, those two above are my parents and I love them dearly. Ok, now that that's out the way, it's time for you to learn a little about me…
I am the Buyer Specialist on The Latimore Group. I launched my real estate career in Columbia, SC. I coin my success through showing others what is possible through hard work and dedication. I am passionate about the needs and goals of our clients, and I specialize in bringing peace of mind to buyers throughout the buying process. From the first time you meet me, you will feel at ease with my professionalism and personal working style. You will be confident in my ability to represent your best interest.
Follow me on Facebook: CLICK HERE